1965 KMZ K-750 M
: tors 20. okt 2016 15:06
Det er jo efterhånden noget tid siden at jeg var på Fyensland og hente en ukrainskfødt indvandre fra Hviderusland; en dengang 50 år gamle sidevognsmotorcykel fra Kiev Motorcykel Fabrik; min KMZ K-750M.
En vidreudvikling af MMZ (Moskvas Motorcykel Fabrik) M-72 fra Den Store Patriotiske Krig (russernes navn for Den Anden Verdenskrig), som var en russisk licensbygning af BMW R71 - en del af Molotov-Ribbentrop-Aftalen... M-72 tegningerne blev ca 10 år efter Krigen solgt til Nanchang Aircraft Manufacturing Corporation som lavede Chang Jiang CJ750 fra 1956.
De to modeller er dog ikke helt ens - heller ikke blandt den russiske fætter fra IMZ (Irbits Motorcykel Fabrik, nær Uralbjergene).
Efter Krigen fortsatte IMZ (oprettet i 1941, hvor produktionen af M-72 flyttes fra Moskva for at lægge fabrikken udenfor tyske bomberes rækkeviede) med at bygge motorcykler til den Røde Hær, men i 1946 dukker den ukrainske fabrik op nær Dnepr-floden i Kiev; de overtager hurtigt den militære produktion, og IMZ skifter over til civil produktion.
De fleste spørger ofter om ikke det er en "Ural" eller om det er en "Dnepr" - og til det sidste spørgsmål kan man jo både svare ja - og nej: Ural er oprindeligt "kælenavnet" for IMZ fabrikken grundet dens placering ved Uralbjergene (skillegrænsen mellem Europa og Asien), og virksomheden hedder faktisk i dag officielt IMZ-Ural. I 1967 lavede KMZ en model som de gav tilnavnet "Dnepr" - men navnet hængte fast og endte mere eller mindre med at blive navnet på mærket. Nærstuderer man min motorcykel ser man KMZ-logoet flere steder (Dnepr-mærket er lidt anderledes) - modsat IMZ-Ural overlevede KMZ ikke.
Nå! Nok historietime og gammel, sur mand fra mig af!
Den 25. maj 2013 (jeg husker datoen nøjagtigt da det er min fantastiske ekskærestes fødselsdag) var jeg ovre og hente denne ca. 350 kg tunge, lidt rat-looked motorcykel og dens sidevogn (den er altså inkluderet i de 350kg).
Prisen var god - og efter at have monteret nyt batteri startede boxermotoren op uden problemer. Jeg gik stille og roligt igang med at lave lidt småarbejde på den og... så gik jeg jo lidt i stå et par år...
Sådan så hun ud da hun kom hjem fra Fyensland: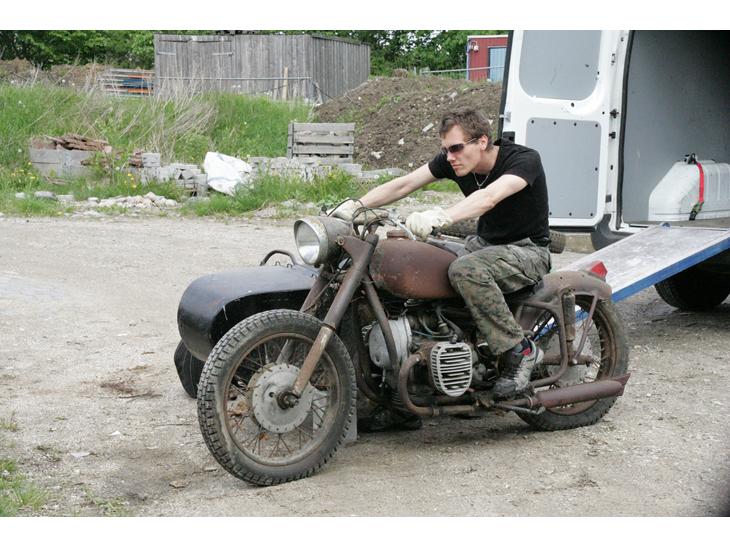 I sommers havde jeg lidt fritid da jeg gik uden arbejde og så var der jo tid til at pille på damen igen... Det blev til en tur i sandkassen for mange af delene, herunder forlygten, lygtekrans, tankdæksel (lidt dum idé), handskerumsdækslet, bagskræm, styr, udstødningspotter og tank. De fleste af delene (alt undtagen tanken) fik efterfølgende zinkspray og blev lakeret i blanksort eller hvid med et enkelt lag: dette er ikke en total renovering, men et "Russian shine"; så den skal stå pæn men ikke ny (styret kunne godt trænge til en ommer...).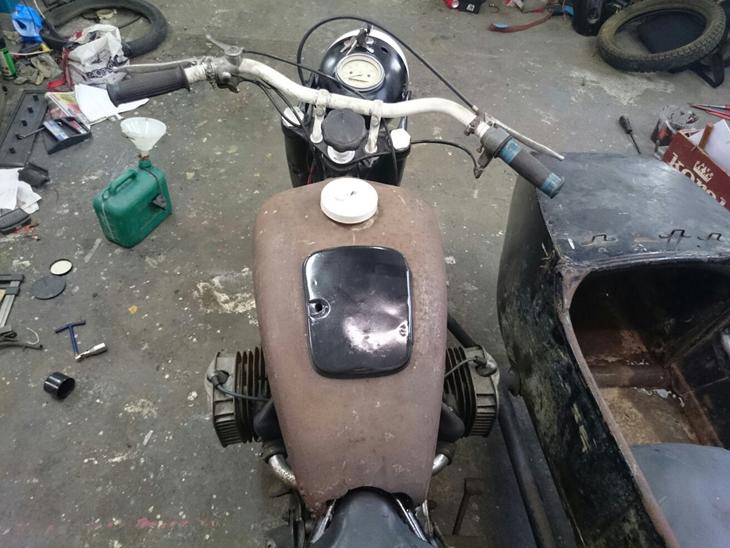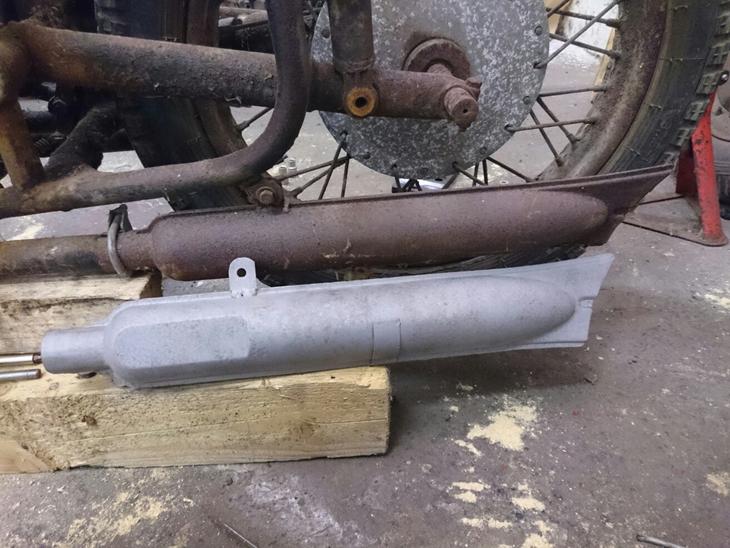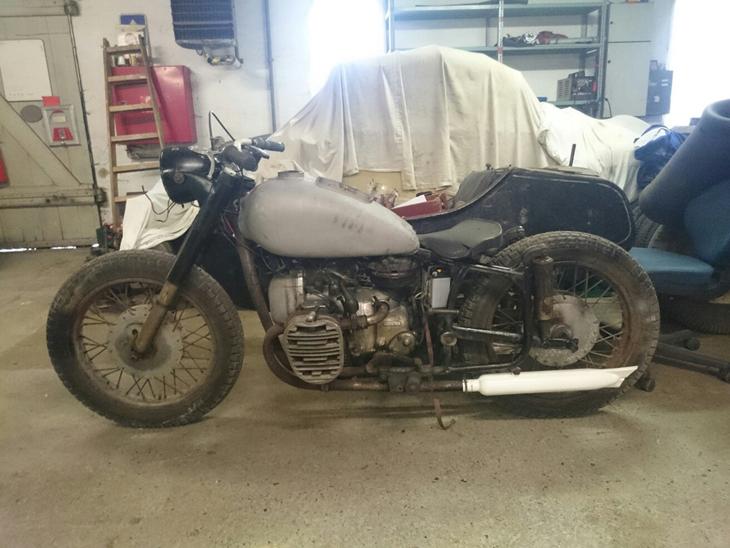 Der mangler lidt finjusteringer, og så er der skåret et hul i tanken på størrelse med en gammel 5-krone for at lave en lap til hvor der var faldet noget glas ned i tanken.
Der skal også lavet noget elarbejde (øv! Jeg hader det!). Og ja, pladearbejde på sidevognen, lave et hack med en knallert bremselyskontakt, service af bremser og lidt frisk olie, samt lidt andre småting...
Og så skal jeg overveje hvad jeg vil gøre bagfter! Skal jeg jalre en plade bagpå? Skal den sælges? Skal jeg gå igang med at slibe malingen af sidevognen også?
Men ja efterhånden som jeg får lavet lidt på
Lida
poster jeg lidt billeder og tekst. På min server i Rusland har jeg også et ret beskrivende før/efter billede af motorcyklen, men jeg kan ikke få forbindelse til den fra mit kontor grundet vores sikkerhedscirkulærer.
Motor- og stelnummer passer faktisk til typepladen (de har ikke matchende numre, men matcher med typepladen, så er ikke blevet skiftet) - Sovjetiske motorcykler, i alt fald af denne type blev bygget sammen af "lagervarer" så der er som regel ikke match mellem stel, motor og gearkasse. Motor og stel bliver registreret og banket på typepladen før udskibning. Farven er jf. den sovjetiske registreringsbog sort kunne jeg læse, og derfor har jeg jo også valgt sort. De hvide dele har været krom på min; dette kan have været en ordinans- eller parademotorcykel, eftersom at den ikke har enhedsnummer indhugget.