Hej alle,
Har for nylig tilmeldt mig jeres side og tænkte om jeg lige skulle fortælle lidt om baggrunden:
Min gamle Yamaha-feber har lagt i dvale siden starten af firserne, men synet af et billede fra 76/77 af mig på min kære -75'er (er jeg næsten sikker på det var?) SS'er, vækkede for et par år siden et eller andet i mig, hvorefter jeg så småt begyndte at lede efter en magen til den jeg havde engang. De hænger åbenbart ikke på træerne, så i afmagt købte jeg en -78'er

Nu er det jo bestemt ikke nogen dårlig årgang, men det er altså "nosseknuseren" jeg brænder for, hvorfor jeg tænkte, om ikke jeg skulle prøve lykken her hos jer
Her et billede af min gamle Yamaha, som altså er modellen jeg søger: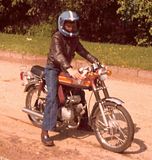 Den endte i øvrigt med at have monteret nærmest alt, hvad jeg kunne opdrive at options, såsom styrtbøjle, tankmåtte, omdrejningstæller, forlygtegitter, kvartkåbe, etc. (kåben var nok noget universal-noget? Min far brugte i øvrigt min kammerats kåbe til at lave en glasfiberform, så han kunne støbe et par stykker til mig og en anden kammerat. Tror jeg har formen endnu……). I de små to år, jeg var arbejdsdreng på en fabrik 12-13 km fra hjemmet, kørte jeg på den tur/retur 5 dage om ugen, og trods motoren blev pint med et 8,5 hk tun (tror jeg det var), kan jeg ikke mindes den svigtede mig een eneste gang. På trods af jeg ikke kunne undgå at køre på større veje til/fra arbejde, gik det godt i forhold til politiet, lige indtil få dage før intentionen var at parkerer den "for good", da jeg nu var godt 18 og kørekortet i hus. Surt at miste diverse ulovlige dele og at skulle trække den hjem, men det er der jo nok flere af jer der har prøvet

Nå, beklager den lange intro – det jeg er ude efter er som nævnt, at hvis nogen har modellen til salg, så sig endelig til. Min matching number -78'er, der ses herunder, kan evt. indgå i handelen: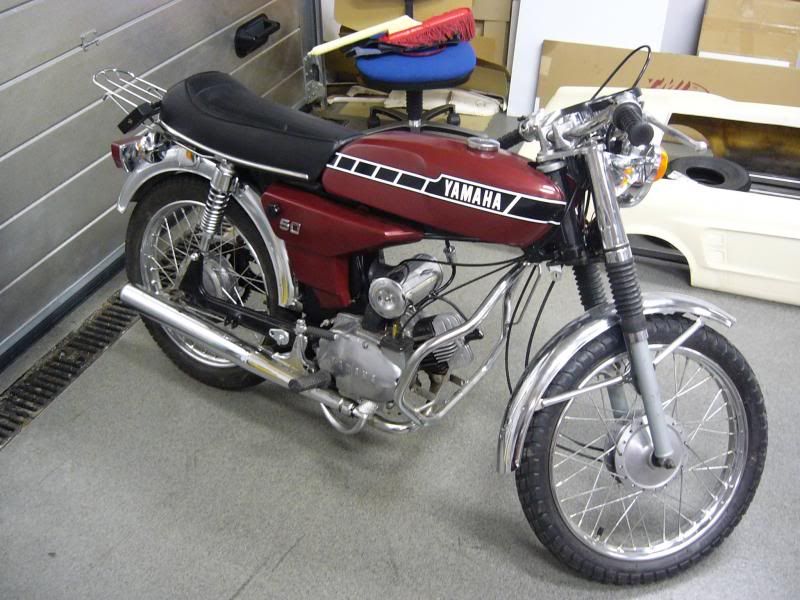 PS. For de eventuelle SCO interesserede, så har Yamaha'en selskab i garagen af denne:
Min far brugte den i 70'erne, hvorefter den stod et desværre ret fugtigt sted, indtil jeg for 4-5 år siden fiskede den frem, og, med stor hjælp af en dygtig mekker, satte den i stand, og gav ham den til sin 79 års fødselsdag. Han lurede sq lidt da jeg kom kørende på den
Mvh.
Paul